.credit cards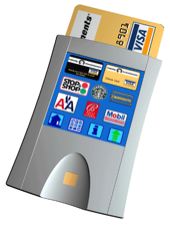 Programmable credit-card to replace most of your wallet's contents
The Chameleon Card is a programmable credit-card and the Pocket Vault is a programming terminal for it. Feed it your credit-card magstripes and your loyalty-card bar-codes, seal it with your fingerprint, then, on demand, it can mimic any of the cards in your wallet. Oh, and it's got an RFID-mimic built in to replace your swipeless gas-pump card. This strikes me as simultaneously very cool and very creepy, and at $200, it seems too pricey to fly.
First-time users of the Pocket Vault will read their old credit cards with the device, which stores their information internally and backs it up to an online or local database in case the Pocket Vault is lost or stolen. Each credit card stored on the Pocket Vault is then represented by an icon on the device's touch-screen display. The Pocket Vault also prompts its owners to place their fingerprints on the device's reader pad to create a biometric profile. from: BoingBoing
Outbound essays / articles

. The Right Time for Research: The Beginning. A pro-usability article.
. An article on the infamous demise of boo.com and the impact of the innovative design on success



Visit also
Searchenginewatch
E-Commerce Times
Bohman Usability
BtoBonline
UK_Netmarketing
The Usability Company
Clickz.com
Red Herring
E-Business Research Center



Except otherwise specified the contents of this website are released under the Creative Commons license.