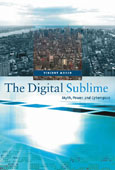 . book
Vincent Mosco
Digital Sublime: Myth, Power, and Cyberspace
<book> The MIT Press
ISBN 026213439X

... The narration of the myth enters here, together with the fact that, its logical and practical groundlessness notwithstanding, it always succeeds in convincing the consciences of its truth until it becomes indisputable. The cases documented in this book (such as the electricity, the telegraph, the radio, the telephone and the television) highlight the common traits of those revolutionary new visions of the perception of time, space, history and politics. In the case of computer networks, the immateriality of information facilitates this 'rise to the heavens', represented by great expectations and utopiae. The analysis of the mystic phenomenon of 'dot coms', as well as the physical destruction of the symbol of the transition from industrial to post-industrial economy (the World Trade Center), is useful to understand the mechanisms of birth, propagation and belief of myths in the unbounded and fluid cyberspace territory.
Outbound essays / articles

. The Right Time for Research: The Beginning. A pro-usability article.
. An article on the infamous demise of boo.com and the impact of the innovative design on success



Visit also
Searchenginewatch
E-Commerce Times
Bohman Usability
BtoBonline
UK_Netmarketing
The Usability Company
Clickz.com
Red Herring
E-Business Research Center



Except otherwise specified the contents of this website are released under the Creative Commons license.