.search-engine marketing / AdSense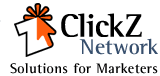 10.03.05 Does Google's AdSense Make Sense?

Call me cynical, but the latest word from media darling Google failed to wow me. Maybe I've been in this business too long, but the idea struck me as so... 1999. Like many of the concepts concocted in the heady days of Internet advertising, AdSense seems deeply flawed. Advertisers should approach with caution.

The idea: Allow small-time publishers to monetize their page views by displaying text links from Google's AdWords program. Advertisers pay only when someone clicks on the ads, which are targeted based on Google's crawl of the pages ads are displayed on.

If things work as Google predicts, the program will help keep smaller publishers afloat by helping them make money from inventory that would otherwise have been wasted. Read on....
Outbound essays / articles

. The Right Time for Research: The Beginning. A pro-usability article.
. An article on the infamous demise of boo.com and the impact of the innovative design on success



Visit also
Searchenginewatch
E-Commerce Times
Bohman Usability
BtoBonline
UK_Netmarketing
The Usability Company
Clickz.com
Red Herring
E-Business Research Center



Except otherwise specified the contents of this website are released under the Creative Commons license.