.art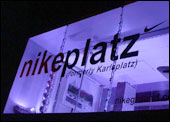 17.10.03 Nike Ground, boomerang marketing.

Nike Ground, in fact, aims directly at the global marketing mogul par excellence, turning their message into a hypertrophic and bulimic monster, but hiding their real strategy behind an unbreakable veil of plausibility. Physically speaking, all of this boils down to a container in the middle of Karlsplatz, one of Vienna's historical squares, equipped with an 'infobox' which explains why the place will soon be renamed 'Nikeplatz', beginning a strategy that will 'dress' the spaces of the world's most famous capital cities. In the infobox, this is explained by a couple of identically dressed twins and with a model of a giant Nike logo which will be placed in the square.

Made in collaboration with the local Public Netbase, which defined it an important stand for freedom of expression in art, this operation involved thousands of brochures distributed to the citizens of Vienna, a phone line to collect comments and suggestions and a web site apparently made by Nike itself. It's almost superfluous to add that the refreshing reaction of the public was to loudly demand an explanation from the authorities and from Nike Austria, giving birth to another dimension of media resistance: boomerang marketing.
Outbound essays / articles

. The Right Time for Research: The Beginning. A pro-usability article.
. An article on the infamous demise of boo.com and the impact of the innovative design on success



Visit also
Searchenginewatch
E-Commerce Times
Bohman Usability
BtoBonline
UK_Netmarketing
The Usability Company
Clickz.com
Red Herring
E-Business Research Center



Except otherwise specified the contents of this website are released under the Creative Commons license.