.search-engine marketing / AdSense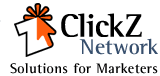 18.03.2005 Search Landscape Changes to Bring Control, Complexity
Changes afoot among the big search players are expected to have a mixed effect on search engine marketers. New offerings from Yahoo! and MSN may give advertisers more control, but industry-watchers predict pricing will continue to rise and campaign management will grow more complex. Read on...
Outbound essays / articles

. The Right Time for Research: The Beginning. A pro-usability article.
. An article on the infamous demise of boo.com and the impact of the innovative design on success



Visit also
Searchenginewatch
E-Commerce Times
Bohman Usability
BtoBonline
UK_Netmarketing
The Usability Company
Clickz.com
Red Herring
E-Business Research Center



Except otherwise specified the contents of this website are released under the Creative Commons license.