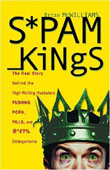 . book
Brian S. McWilliams
Spam Kings
<book> O'Reilly
ISBN 0596007329

The excess of output (that is, the excessive communication power) in the hands of a single person guarantees an incredible freedom of expression but threatens to implode the electronic mail medium. And, though the technique of 'shooting into the crowd' was already perfected by traditional marketing in the last twenty years, some other techniques have been made possible only thanks to the interwined networks of the Internet, such as the suggestion to buy some stocks so the spammer can sell them after the rise induced by the wave of buyers, or the 'dictionary attack', that is, trying to guess the email addresses hosted on a single provided using a dictionary of common names and words.
This endless struggle between polluters and self-appointed ethical crusaders is just one of the biggest contradictions of the Net. Thus, unavoidably, this book will become a classic in this field. Moreover, even if, as the famous cartoonist Thach Bui says, the inventor of a working system to kill spam would deserve the Nobel prize, the most daring and hidden desires of human beings will continue to be the target of profiteers.
SUBSCRIBE TO GWEI MAGAZINE
Subscribe to GWEI printed magazine. You'll receive 3 issues/year.



GWEI is a regularly updated site on new marketing, digital pr and e-business with special book reviews and links, quarterly printed as magazine.



Outbound essays / articles

. The Right Time for Research: The Beginning. A pro-usability article.
. An article on the infamous demise of boo.com and the impact of the innovative design on success



Visit also
Searchenginewatch
E-Commerce Times
Bohman Usability
BtoBonline
UK_Netmarketing
The Usability Company
Clickz.com
Red Herring
E-Business Research Center



Except otherwise specified the contents of this website are released under the Creative Commons license.